Spooner Rodeo Entertainment-2018
RODEO ANNOUNCER: KELLY KENNEY
Kelly Kenney was born in 1975 and raised in a small town in southwest Missouri with hard working, loving parents and two older brothers. Kenney credits his parents for allowing his dreams of becoming a cowboy to come true. He says, "Just now I realize how many sacrifices my family made to haul me to all of those high school rodeos. (We were) Living off of very little, but I never knew it, I felt I was the richest kid in the world."
At an early age he learned to ride a stubborn little sorrel pony, and it wasn't long before that experience developed into a love of rodeo. In high school, he learned how to rope and bulldog, and how to play guitar. He went to college on a rodeo scholarship. Soon officiating high school and college baseball and basketball, rodeoing, picking and singing consumed his life, leaving him with very little time for anything else. Then accidentally, in 1996. at a rodeo in his home town, the announcer didn't show. Kenney reluctantly agreed to help. That night in November of '96, he was "bitten by the entertainment bug," as he puts it.
The next four years of Kenney's life were jammed packed with excitement. He was announcing rodeos and competing hard all summer, officiating college baseball in the springtime, calling basketball games all winter and filling any otherwise vacant time slots with singing gigs. It didn't take long for Kelly Kenney to realize his life was being consumed with work and travel, leaving little time for the things he loved at home - his family, hunting, fishing, and ranching.
In 2000 he became the head rodeo coaching position at Missouri Valley College in Marshall, MO. The next year Kenney was encouraged by his peers, students and family to pursue a career in the field that he had originally started years earlier, announcing rodeos. Kenney turned pro in 2001, resigned from the college in good standing, hung up his officiating uniforms and has never looked back.
Now Kenney announces PRCA Rodeos full time working approximately 30-40 events each year, traveling from Georgia to California and Texas to Montana. Last year he announced three Wisconsin rodeos, Spooner, Madison and Merrill. Despite his busy schedule all around the United States, last year, for example Kenney was able to fit in a fishing vacation in May and a hunting trip in November.
With a cow/calf operation at home, Kenney's life remains full of responsibilities. Kenney says, "Now when rodeo season slows down in the fall, I get a chance to go hunting, pick with the band and auctioneer some sales. Most importantly, I get to truly enjoy my family."
To find out more about Kelly Kenney, visit his website: http://www.kellykenney.com/index.html 
ENTERTAINMENT: Rider Kiesner
Rider grew up as a 5th generation cowboy...and competed in Youth and Little Britches Rodeos for as far back as anyone can remember.  He won his first buckle when he was just five years old.  When he was nine, he was given a Will Rogers Trick Roping Kit for Christmas.  Right away, Rider moved the living room furniture, and watched the instructional video over and over, until he had mastered each trick.  He started performing locally that next summer and was in the Professional Rodeo Cowboys Association circuits by the time he was 11.  Rider continues to practice and master the cowboy skills of trick roping, gun spinning and whip cracking.  
In the early days of rodeo, trick roping was held as a competition at most of the biggest rodeos in the nation.  In that spirit, Rider competes at the nation's largest competitions for trick roping and gun spinning.  At the age of 24, he has already won 2X World Champion All Around Western Performer, 4X World Champion Trick Roper, and 2X World Champion Gun Spinner. Rider has performed in 49 States (all except Hawaii), Canada, Mexico, Japan, China, Oman, Dubai, Lebanon, Taiwan, South Korea, Hong Kong and France. He is a 4X Wrangler National Finals Rodeo specialty act, 4X Cheyenne Frontier Days Rodeo specialty act, with other notable performances including St. Paul Oregon and the show, Cavalia.  Rider also is a 2X Nominee for PRCA Specialty Act of the Year.
RODEO CLOWN: Gizmo McCracken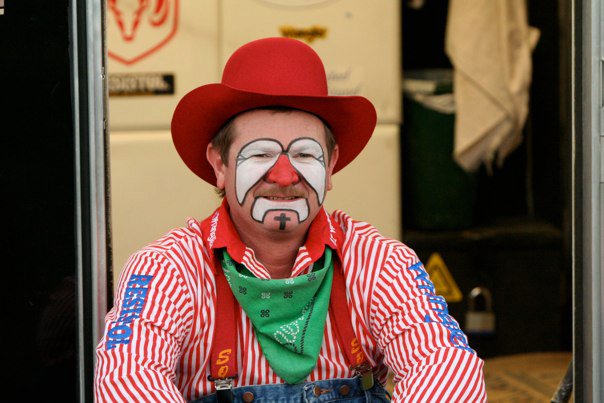 Gizmo McCracken has been entertaining crowds across the Country for many  years. He became a member of the PRCA (Professional Rodeo Cowboys Association) in 1992 only 25 years ago. Since that time the list of accomplishments has grown beyond our belief. Working 15 PRCA Circuit Finals Rodeos, Dodge National Circuit Finals Rodeo, Cheyenne Frontier Days twice, Nominated "Coors Man in the Can" 3 times, Nominated "Clown of the Year" in '16, Nominated for Comedy Act of the year 6 times and our biggest accomplishment being a feature act at the 2005 Wrangler National Finals Rodeo. Gizmo takes pride in the fact that his humor is good, clean, family style comedy. Gizmo travels the country from Canada to Texas, from the East Coast to the West Coast logging thousands of miles a year through dozens of states. Gizmo started his career as bullfighter and moved into stand-up comedy on a show in Branson, MO. Gadgets and gizmos that went sour were often part of his routine, hence the name "Gizmo, The World's Greatest Inventor." " A lot of Clowns and Specialty Acts ​sell themselves with a bucking car or a dancing horse." said Gizmo "I supply a Character," and that is just what Gizmo is. Many Characters will  find their way into your town and your arena. "I like to keep people looking for me and  wondering what I am going to do next." said Gizmo. The acts share a high energy, clean , family oriented feel which adds a fresh new atmosphere to any rodeo he is a  part of. Gizmo is the Best Comedy Entertainer  that this sport has to offer. Regardless of whether you have  seen him before or this is your first experience I am confident tha you will leave laughing. 
COUNTRY MUSIC: Dirt Road Dixie
We're thrilled to be one of the hottest Country band's in the Midwest. For well over a year now, we've been bringing great music to great people all across the Midwest in Minnesota, Iowa, Wisconsin, and North/South Dakota. We have established ourselves at the top, with the best vocals in the business, coupled with amazing musicians. You're sure to enjoy our high energy performances and great set list of music we have put together. Whether  it's at a Club, County/ State Fair, Community Event, Corporate Event, Wedding, Private Party, or Benefit, big or small we rock it all!   We are excited for all thats in store for Dirt Road Dixie and the road that lies ahead!